Ahrefs vs SEMrush vs Moz: Which SEO Keyword Research Tool Is Better?
Are you on the lookout for the best SEO tool in the market?
THIS ARTICLE MAY CONTAIN AFFILIATE LINKS THAT PAY US A SMALL COMMISSION AT NO EXTRA COST TO YOU. READ OUR AFFILIATE DISCLAIMER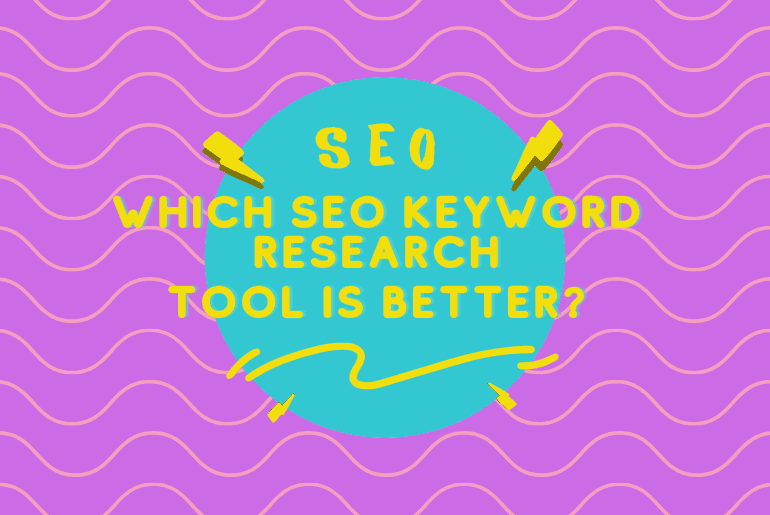 There is a crazy number of keyword research tools in the marketplace to choose from. Ahrefs vs SEMrush vs Moz–which one do you choose? All three tools are great and have their strengths and weaknesses. I'm here to help you navigate your decision on which SEO tool(s) to use.
Why do you need an SEO keyword research tool? It's because you must do keyword research to write content that will increase your page views and grow your blog traffic.
Of course, however, choosing the best SEO tool is a daunting task for many.
That's because ever since their inception, SEOs and content marketers have participated in the Ahrefs vs SEMrush vs Moz debate. With multiple features, amazing premium packages, and perks, each option comes with a set of advantages. This makes the decision almost impossible.
We're going to compare Ahrefs vs SEMrush vs Moz by covering their main features and pricing plans. That way, you can make an informed decision when you shop for SEO tools.
Keyword Research Tools Reviews: What Do the Best SEO Tools Offer?
So here's the deal:
Premium SEO keyword research tools can get the guesswork out of the way. There are some good free keyword research tools to consider too.
You can also use SEMrush, Moz, and Ahrefs to figure out:
Which keyword will generate more traffic?
What is your competition using?
How can you optimize your SEO and PPC campaigns?
So how do you pick one tool from another?
The answer lies in the details. 
Here's what each tool has to offer:
1. SEMrush

SEMrush was launched in 2008 as an in-house toolkit for SEO specialists and digital marketers. The company later decided to share this cool tech tool with the world.
It proves that SEMrush is a comprehensive and adaptive toolkit for marketers.
Therefore, you can find everything from SEO content marketing, paid search strategies to social media tools on this platform. Plus, it offers a global perspective to the user with the help of the company's international staff.
The combination of these aspects creates an efficient, diverse, and marketer-centric platform. It is why leveraging their data into your marketing campaigns is so easy.
Key Features
When you compare Ahrefs vs SEMrush or SEMrush vs Moz, you'll notice how much more this toolkit has to offer.
Here's a sneak peek of its four core categories:
Analytics
The biggest advantage of SEMrush is its domain and keyword analytics. It features keyword reports, web traffic analysis, historical data, and product listings. You also receive geo-based SEO options and updates. With this information, you can reach a diverse audience on multiple marketing channels without a problem.
Tools
SEMrush tools lend a helping hand in these scenarios in different ways (i.e. search engine rankings and SEO content readability). Primary tools in this suite include the keyword magic and SEO writing assistant.
Projects
Great marketers always dabble and experiment with their marketing portfolio. SEMrush ensures that none of your efforts go to waste. You can use the tools for ad building, global PPC campaigns, social media marketing, and much more.
Solutions
Another cool thing about this SEO keyword research tool is that it has got a range of features that allow you to monetize your marketing strategies. These include off-hand social media marketing, comprehensive reports, and a way to filter profitable niches.
As a whole, SEMrush pricing is flexible and budget-friendly. You get to experience a lot within your price range. Then as your business grows, you get a chance to enjoy more via upgrades.
Overview:
Here's a rundown of what we love and what could be better:
Pros
It combines SEO keyword services with PPC campaigns and social media strategies.
Manages to deliver exclusive industry insights on the competition.
It runs extensive keyword research to meet your project requirements.
You receive in-depth audit reports for your website and backlink suggestions too.
You get to optimize global campaigns, PPC strategies, and social media marketing techniques.
It offers multiple online integrations to improve SEO services and make your marketing tasks less time-consuming.
It's got a wide range of research and social tools that you won't find anywhere else.
Cons
The user interface and multiple metrics are tricky for beginners and non-techies.
The pricing might be steep for bloggers with limited budgets.
In conclusion, as far as hype goes, (between Ahrefs vs SEMrush vs Moz) SEMrush definitely lives up to its hype. It has all the features and metrics that every digital marketer wants to get their hands on. That's why you should sign up for it ASAP.
2. Ahrefs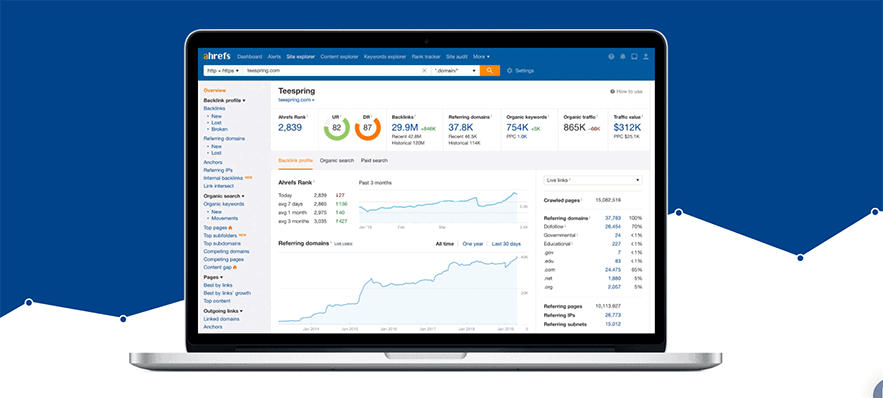 Ahrefs's unique value is in its robust backlink index. There's no better tool in my opinion for backlinks.
Unsurprisingly, the platform's inception was fueled by CEO Dmitry Gerasimenko's interest in search engine documentation and backlinks. He launched Ahrefs in 2010.
Over the years, the Ahrefs SEO keyword research tool has developed and adapted to the current digital marketing landscape. You'll find all the essential keyword research tools and trade insights within the platform. The minimalistic approach allows beginners to really sink their teeth into SEO marketing. Alternatively, the advanced users can enjoy the quick response time and meticulous database. Therefore, it's a win-win situation for all types of users.
Key Features
You get to view your competitor's top keywords and search engine rankings. They've also got a 'Content Gap' feature that compares your web content with trending sites. The report then identifies areas you are underutilizing or missing in your marketing campaigns.
It gives you the low-down on organic search traffic and backlinks of your chosen website or URL. You also receive regular updates on lost backlinks and live backlinks. This data is useful for developing a more reliable backlink strategy.
With more than 3 billion keywords, you get lots of information at your fingertips. You can track everything from trending keywords, user's search history to historical data on SERP rankings.
You get a geo-centric website and mobile rank reports that give you an overview of your SEO performance. If you're interested, then you can receive automated notifications to track the progress of your ranking.
This nifty feature sends real-time reports on the competition. These reports feature link-building activities, keyword rankings, and social media coverage. The best part is that these notifications are sent via email. So you can look at them even if you're logged out.
In short, Ahrefs is jam-packed with key marketing tools that help you leverage your business on the right platforms. We also love how all the additional privileges it offers. These include a 24/5 customer support service, an active Facebook community, and the Ahrefs Academy.
All these features elevate the user experience and make SEO marketing a great deal easier.
Overview
Now, let's check out the pros and cons of using Ahrefs:
Pros
The UI design is simpler and cleaner than SEMrush.
You can use the extensive keyword research system to rank high across multiple marketing channels.
It identifies keyword relevancy and difficulty, which makes SEO content marketing more effective.
The link building system is unbeatable and better than the other tools mentioned in our keyword research tool review.
The search ranking system is highly accurate, making it easier for users to develop their SEO marketing strategies.
They've got informative tutorials and marketing tips for beginners. The customer support service is super cooperative and they help resolve issues in real-time during the weekdays.
Cons
The 7 day trial period seems too short for most beginners.
Although Ahrefs provides a free toolbar, most of the other premium tools come with costly strings attached. This could be a problem for budget-conscious bloggers.
In conclusion, Ahrefs is leading the pack when it comes to backlink building and user-friendly design. All this is backed up with a steady stream of keywords, reports, and analytics.
When you compare it with SEMrush, both SEO tools are neck and neck when we look at keyword research and website audits. You do, however, get access to a versatile range of SEO and social tools on SEMrush compared to Ahrefs.
3. Moz

In 2004, Rand Fishkin and Gillian Muessig co-founded SEOmoz.
Back then, Moz was more of a blogging community where SEO specialists brainstormed ideas and discussed SEO rankings. Eventually, their popularity led to the establishment of a consultation company. Within a few years, the dynamic duo created SEO tools for marketers.
For a while, it featured social tools like SEMrush, but then the company decided to go back to the original services. That meant emphasizing organic search and simplifying the complex strategies for SEO marketers.
This core philosophy of 'simplicity' is the driving force of this SEO keyword research tool. Tools like Keyword Research Explorer, Site Explorer, and other SEO-centric features on the platform. And who can forget their famous Domain Authority score?
Key Features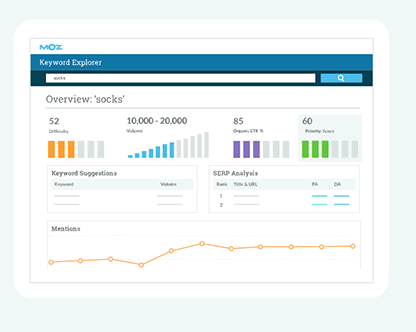 You can unlock an unlimited number of keywords with SEO difficulty and perform SERP analysis on targeted niches. Then you can use this data to fine-tune your content strategy by listing high-ranking keywords in relevant categories for blog posts.
From anchor text, Domain Authority to broken links, this tool offers invaluable information on the backlink index.
You get a quick overview of targeted keywords and their rankings on multiple search engines.
You can keep track of your SEO performance and monthly success with customized reports. The reports cover valuable data like search engine rankings, site crawl data, and more details on the competition.
As a whole, Moz has got decent SEO tools and features for bloggers. You also get access to app integrations and guidance from a cooperative customer support staff.
Overview
Here's a rundown of the advantages and disadvantages of Moz:
Pros
The month-long Moz free trial allows you to use Moz Pro to its full potential.
It's more affordable and has several freebies (i.e. free SEO toolbar).
The audit tools offer a clear analysis report on website performance.
It offers a reasonable range of local and global SEO insights and features that improves your SEO rankings.
Excellent customer service with a 1-on-1 walkthrough for new users.
Cons
When we do an Ahrefs vs SEMrush vs Moz comparison, then this one has fewer features and less versatility than the other platforms.
The backlink index isn't as efficient as Ahrefs.
It takes time to adjust to the settings and metrics displayed on the dashboard.
Overall, Moz is a great SEO tool for bloggers and online businesses. It might not have all the features that its competitors offer. Yet, it's a solid option for companies that solely focus on SEO marketing.
The Verdict: Which One Should You Choose?
In the end, the Ahrefs vs SEMrush vs Moz debate is inexhaustible. That's because they've all got advantages and disadvantages depending on what you need. For instance, if you want a dynamic and versatile brand presence, then SEMrush is the best SEO tool for this job. It covers different areas of marketing and integrates them with SEO.
Alternatively, if you're interested in backlinks, then Ahrefs is the right choice for you. On the other hand, Moz offers simple and practical SEO solutions within a reasonable price range.
So, when you decide to invest in an SEO keyword research tool, try to think of ways to leverage each tool's advantages to improve your online visibility.
Use the keywords that you find with these SEO tools inside the alt text for your blog posts' visual content.
---
This syndicated article was originally published on InspireFirst.
Impressed by our content?
Get in touch with us. We can spruce up your content and strategy too. Sound good?