In-House Graphic Design: A 4-Step Guide For Marketers on a Budget
Marketing Morsels is a series of short and sweet blog posts for Marketing Managers looking for bite-sized knowledge hits that'll help drive business. These blog posts have been shortened and adapted from their original home, InspireFirst.
As a marketer, it can often feel like allocating budget to your department is more of an after-thought than a top priority. But you know what's top-of-mind no matter what? Those KPIs!
So, what do you do if you've got a low headcount, a tight budget, and the mere mention of hiring an in-house designer is likely to get you laughed out of a meeting room (or Zoom call)?
The same thing we try to do every night, Pinky. Try to take over the world!
…Or, if that's not your thing, roll up your sleeves and do it yourself!
Luckily, the not-so-secret weapon, Canva, will have you creating amazing graphics in no time. Ready to get started? Let's go
Step one: Go for the pro
Canva can be used for free but if you're looking for a cheap resource for graphic design, at less than $20 USD per month, it's well worth the splurge. With a slew of template options, an easy-to-use interface, fancy integrations, and all of the effects and assets (hello, stock images) you could possibly need, customization is a breeze. 
Plus, you can share your work with your peers via shareable links, additional team member seats, and even stay on brand thanks to a built-in, customizable Brand Kit (think colors, fonts, and the ability to upload your own image/video assets).
Step two: Start with a template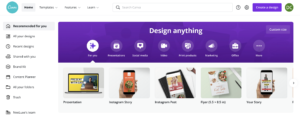 The beauty of Canva is really in how easy it is to build something beautiful from scratch, cobble together a mix of templates and elements (more on that later), and/or choose from their seemingly endless supply of oh-so-easy to modify templates. 
Let's say you decide to make a quote graphic for an Instagram post about marketing and settle on, "Instead of interrupting, work on attracting." from Dharmesh Shah, CTO & Co-Founder, HubSpot. 
First, pick a dimension/canvas size. You can plug in custom deets or search Canva via keywords like "Instagram Post". 
PRO TIP: Different dimensions will populate different templates. Something to keep in mind if you're using custom dimensions but expecting Instagram Post templates, for example.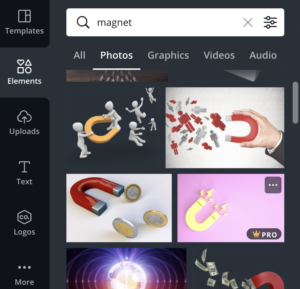 Then, you can either scroll through every template or narrow your search with a keyword like "quote" to surface templates specifically made for that type of post. Now, let's say the template you choose incorporates a photo background. No need to hop off to another tab, with just the tap of a few keys, you can easily search a relevant image from a slew of stock photos within Canva itself. Just make sure to click on over to the Elements tab and filter by Photos, as shown below.
To swap out the stock image for one of your own, simply drag and drop. You'll see the image upload in the Canva sidebar, saved for future use. 
Now that you added your (background) image, it's time to add the quote. Select the text, type in your quote, and feel free to change the font's style, size, or add any number of other effects, Microsoft Word Art style.
PRO TIP: Easily maintain brand consistency by saving your company's brand colors or match image assets by color-picking straight from the source.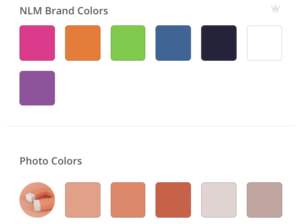 Step three: La pièce de résistance
And voila! Now that you've found a template, added text, chosen a background image, and fallen into an hour-long trance tweaking every pixel to your heart's content (or is that just us?), you're ready to save, download, and/or share!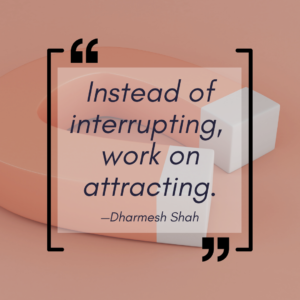 PRO TIP: Canva isn't just for digital assets! When hitting "Download", you'll notice a myriad of other options for your design. Need to make company swag in a cinch? Print your design onto some tees or mugs! Make company business cards and letterhead, go wild!
Step four: Push it further
In case you ever need help getting started or taking your design a step further, these are some of our favorite (free) websites for whatever in-house graphic design needs you may have:
And with that, you have all the pieces… now it's up to you (and your imagination). Go off and create something beautiful!

Need more convincing before diving into graphic design?
Check out our blog post on how to optimize your company blog through visual content. Speaking of which, if you're looking to make your brand POP, get in touch!