Team Collaboration: How NeoLuxe Maintains a Healthy Company Culture
Team collaboration is just a buzzword you hear on the "About" section of just about every company website, right? Nah! In fact, it's a must for any organization that wants to cultivate and maintain a healthy company culture. In the spirit of transparency, we'd love to give you a peek behind the curtain at NeoLuxe Marketing and share how we work together to share ideas, opinions, and feedback for the purpose of providing value to each other and our clients. 
We've Built DEI into our Company DNA
Truthfully, there are some incredibly diverse marketing agencies out there, and I'm proud that NeoLuxe Marketing is among them. Our team represents various ethnicities, backgrounds, ages, and orientations. And, aside from the fact that it's just the right thing to do, we believe in nurturing a mosaic of perspectives for a few reasons, namely:
Having a diverse group of people (

especially in positions of power

) has been proven to yield better results and higher returns;

Research also shows that the

current and future workforce

prioritizes a culture of inclusion more than ever before, and;

A company is better positioned to serve its clients when its offices reflect its community.
Of course, it's always a lot easier to collaborate with team members when you actually like the people you work with! So, as important as talent fit is for your business, culture fit is equally important. Note: that doesn't (and shouldn't) translate into hiring only those with the same background and hobbies as you. For us, culture fit looks like team members with a shared belief and understanding for our company mission, vision, and values.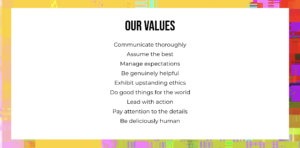 Finally, building and maintaining a healthy culture means trusting that everyone is doing their best, is good at what they do (after all, they were hired), and can be relied upon to use their expertise to provide value. We give space for all members of the team to be themselves (wholly and without compromise) while showing compassion and maintaining respect. Always.
Our Emphasis on Collaboration and Communication 
At NeoLuxe, collaboration starts with communication. That doesn't mean we go overboard with team meetings (more on this below), but we'd definitely consider ourselves a group of active chatters!
Ultimately, our team is all about making decisions with loving intentions. If we disagree, we make a point to do it in, as Maureen (our co-founder), likes to say, "a kind and constructive way".
We have key team members all over North America — from Washington State to Wisconsin to Georgia, and even Toronto (Canada)! So, the few collaboration tools that we use are necessary for us to remain productive.
Internal communication typically starts on Slack, where each channel is organized by client name or internal operation (i.e. Marketing, Sales, etc). Slack is also what fosters our company culture. Naturally, we have a couple of channels that allow for virtual "water cooler" conversations, including a #pets channel. It seems simple, but this has been an excellent way of building and maintaining a feeling of community among our team members all across North America.
We're also big fans of Asana for keeping internal and client projects organized and on track. Our Google, Webmaster and Asana Master, Drake, says:
"NeoLuxe uses Asana to help keep our team and consultants organized, productive, and on task with our client and internal company projects. From Slack integrations to Harvest tracking, Asana makes tracking and managing products and teams a breeze."
Google Workspace acts as our online productivity hub for tasks like communicating via email, scheduling meetings, and more. In terms of content creation, we write copy almost exclusively in Google Docs. We also dabble in Sheets, communicate high-level strategy with clients via Slides, and even "whiteboard" virtually via Jam Boards if the situation calls for it. This all makes it easier for us to share projects with internal and external collaborators for editing, reviewing, suggestions, and/or feedback. Nothing groundbreaking here, but it works for us!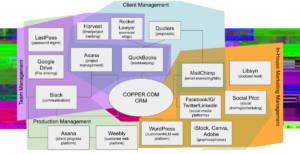 Beyond communication and all of the fancy tools we use, our culture wouldn't be what it is without our team valuing accountability. Doing what we say we're going to do (and occasionally going above and beyond) is key to forging a work culture built on trust.
What does that look like in practice? It looks like Maureen pitching in to give our Executive Administrator, Jess, a ride in her cross-country trek to go above and beyond for a client, for example.
Last, but certainly not least, we regularly practice cross-team collaboration. For example, our InspireFirst team often works with our internal marketing team to repurpose select InspireFirst blog posts into high-quality, informational blog posts for our agency's audience. And our SEO team collaborates with both teams to provide helpful SEO insights and keyword research for us and our clients as well!
Team Meetings, Yes; Zoom Fatigue, No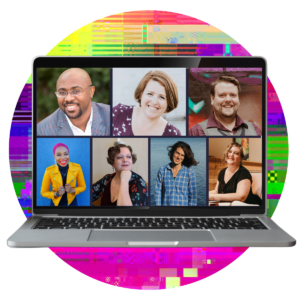 Every month, we have a general team meeting to catch up, report on each other's progress, and share the big picture in terms of the business. We also open the floor for everyone to offer feedback, share ideas, and ask questions. We like to think of these meetings as a place where no one is a mere observer, just along for the ride; everyone participates. A happy byproduct of this is that no one zones out during our meetings, and because we all add to the conversation, we all leave energized. Zing! 
Recently, we held a team meeting where we discussed our company culture. Wanting to go beneath the surface, we had each team member offer their opinion on what they believed our mission, vision, and values to be and how we could (and should) continue to put them into practice. This exercise allowed each team member to share their voice. It also provided us with some concrete steps to take back to our respective teams, clients, and communities at large.
Beyond our regular company meetings, we have specific project meetings, and one-on-one catch-ups as needed. Again, the goal is never to overdo it (we're all scraping seconds off the sidewalks to get everything done and if we don't have to look at the Zoom menu bar again, we'd all be OK) but to be strategic about our time and open to quick chats with team members if anything risks getting lost in translation. This agility helps us collaborate more effectively and boosts our overall productivity. 
TLDR;
Put simply, team collaboration is what motivates us to do the best we can. Knowing that we're all in this together – equally trusted and equally important – inspires us to keep doing better. As a result, you'll find the occasional lovefest on Slack when we see collective success.  
That said, when you partner with NeoLuxe, you're getting a diverse team with a collective passion for doing well by doing good (work). And, if you're lucky enough to work with us as a team member, then you'll get an inside view of what it's like to do work that our clients both love and benefit from.
So, if you're a leader who wants to know how to improve team culture at work and build a more collaborative, productive company, do the following:
Don't be afraid to work with your team to establish a company mission

Cultivate a culture based on shared values and respect for one another's differences

To that end, prioritize diversity, equity, and inclusion in everything you do (don't just pay lip service).

Communicate often and ensure everyone feels empowered to share their voice

Keep meetings efficient with a strategic yet agile approach

Use whatever collaboration and project management tools at your disposal (as long as they work best for the team)

Hold each other accountable and trust each member to deliver on time and appropriately manage expectations
As our team would tell you, these are all well worth doing. The reward? A happy and functional team within a thriving company and clients who feel well-served and cared for.
P.S. We're proud to have been listed among the Top 30 Digital Marketing Agencies in Seattle. If you're in the market for a digital marketing company to help you bring your brand to life, get in touch!

Sound like your kinda team?
Whether as a client or team member, if you're interested in working with us, we'd love to hear from you. Just holler!